Satellite Installation Packages
---
Selectv Satellite Television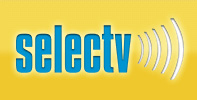 Satellite and Sound are resellers of Selectv.
Selectv is Australia's first low cost Pay TV service, offering an excellent selection of content at affordable prices.
SELECTV is Australia's newest digital subscription TV service. SELECTV is a great mix of TV channels at an affordable price. The service currently offers a total of 36 channels, all providing premium content from some of the best Australian and International media companies.
SELECTV will appeal to many Australians - the channels and the pricing have been carefully selected to give a balanced mix of movies, family, lifestyle, sport & entertainment.
In addition, SELECTV targets specific cultural audiences with cost effective packages for:-
Greek
Spanish
Italian
Vietnamese