Wiring and Installation Services
---
Retro Fitting Commercial Systems
If control of the AV systems at your business have become complicated and time consuming to operate, then you need to upgrade your control systems to an IKUSI Programmable Amplification and Conversion Modular Head End.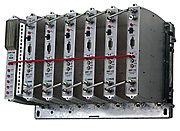 IKUSI Communications Technology specialise in engineering solutions for complex audio visual systems and have developed a system of 'modular head ends' that allow all feeds (such as cable, digital, satellite, free to air and processing units) to be controlled remotely from a single point.
The unit has been designed to handle as many displays as required and allows them all to be controlled as one system, or separate displays. The unit is compact, flexible and expandable, ensuring that any new additions to audio/visual systems can be easily integrated into the unit.
Satellite and Sound can completely reorganise your AV systems, making them much easier to use, saving time and money in the process. Contact them today.